Knowing when and how to mount exterior wall lighting will significantly differ in your house's aesthetics, privacy, and value. Updating your exterior lighting will improve your outdoor living spaces while also adding some curb appeal to your home.
There are many considerations and choices to remember when exploring how to mount exterior wall lighting.
Let's start!
The Many Types of Outdoor Wall Lighting
A sconce is known as any light fixture attached to a wall. Sconces offer dependable lighting while also adding charm and appeal to the exterior of your house.
When you add outdoor wall lights to your house, one thing to remember is whether to go with gas, solar, or battery-powered sconces:
Electric sconces: These types are hardwired into the electrical grid of your home and powered by a light switch. Choose electric lighting to create a romantic ambiance in your backyard for dependable, permanent outdoor lighting.
Solar sconces: These are eco-friendly, cost-effective, and simple to use! You mount them where you like them without drilling holes or running wires into the walls. Most versions use a light sensor to automatically switch on the lights at sunset, which can be convenient for hands-free ambient lighting on your deck.
When you need outdoor lighting but don't want to drill holes in your siding or rely on solar panels to charge daily, battery-powered sconces are the alternative.
Flush wall sconces: These types shed light sideways or vertically, highlighting the surrounding area while bringing drama and visual appeal to the room.
Hanging lanterns: These are available in a wide range of designs and finishes, making them a flexible yet timeless option that complements all architectural styles. Be sure to position these lights carefully, as they can protrude quite a bit from the wall, posing a head-bump hazard if positioned incorrectly.
Torch lights: These are a distinct, eye-catching sconce type that is gaining popularity. Torch sconces designed to look like old-fashioned torches used in castles are an excellent option if you want your exterior lights to act as conversation objects. To get the full torch effect, pair with flickering lamps.
Pendant lights: These are appealing, classic, and fashionable. Pendants, like hanging lanterns, must be strategically positioned to avoid hitting the head on them.
Choosing the correct type of sconce for your outdoor space can be difficult. Choosing the right building facade lighting will make or break your outdoor spaces. Consider the exterior materials and colors of your house, as well as your landscaping and personal style.
Installing Your Outdoor Wall Sconce Lighting
It's time to add the light fixtures you've picked after you've decided on the best spot for them. Since solar and battery-powered lights need minimal configuration, we'll concentrate on how to mount exterior wall lights that are wired into your home's electrical grid.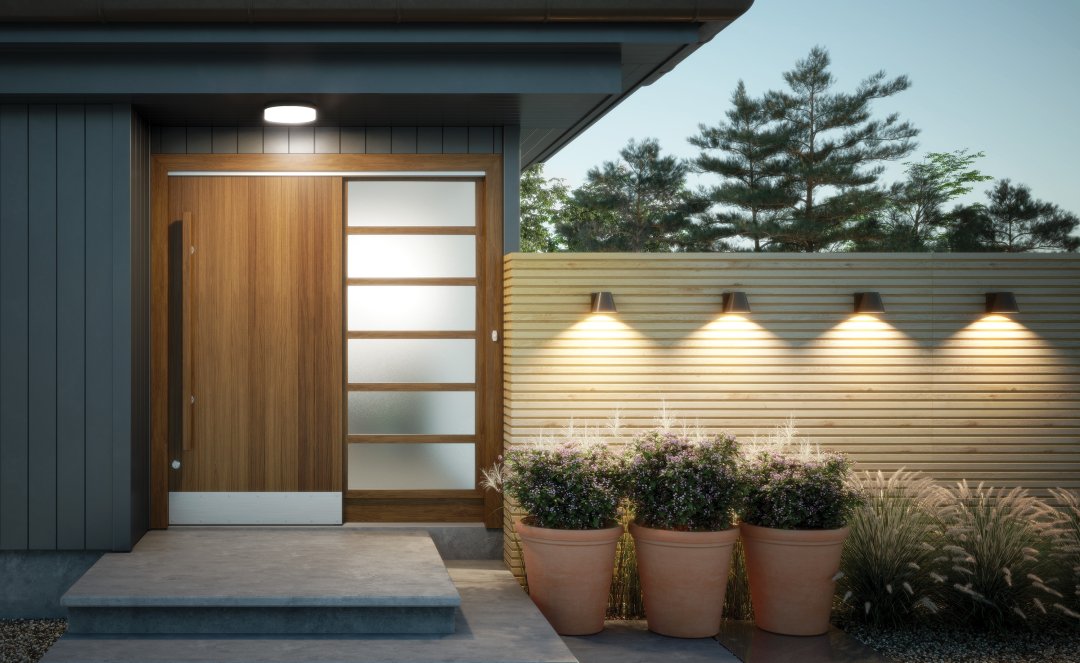 Installing sconces where there is no current wiring is often the responsibility of a licensed electrician. An electrician will wire new outdoor wall sconce lighting fixtures in a variety of ways. The system chosen would be determined by the current wiring to which the new light will be connected.
An electrician, for example, can connect a light fixture mid-circuit by splicing wires and inserting another junction box. If there is a current light nearby, the new light may be pigtailed into the existing light fixture box.
If you're removing old outdoor wall sconces, installation should be much easier. Toggle off the circuit breaker that supplies electricity to the light fixture, detach the old one, and repeat the process to add the new one.
One challenging aspect of building exterior lighting is ensuring that the gasket is flush with the siding to prevent water from dripping into the areas where the wires are located. Where in question, contact the neighborhood electrician.
A Step-by-Step Guide to Installing A Motion Sensor
With wireless motion sensors being more popular, DIYers have it simpler than ever to mount them. You should mount a motion tracker if you know how to use a screwdriver. The correct implementation provides optimum coverage for motion detection while reducing false alarms.
1. Unbox your motion sensor kit.
Your motion sensor kit can provide manuals as well as mounting hardware. If your computer has different batteries, insert them into your motion sensor now.
2. Choose a location for your motion sensor.
Before installing your motion sensor, consider the most appropriate sensor placement:
Corners are suitable because they allow you to position infrared sensors to cover the most ground. Most motion sensor designs have angled edges and screw holes that fit neatly into a room's corner.
To get the best coverage, mount your motion detector high on the wall—but stop positioning it over a big piece of furniture, such as a bookshelf or entertainment center, so that it will narrow the passive infrared energy spectrum.
Mount the motion sensor opposite the main entrance—this extends to any room or corridor where you mount these sensors to identify intruders right away.
3. Mount the sensor on your chosen location.
Since passive infrared sensors are lightweight, you won't need drywall anchors or studs. A conventional screwdriver would do, but an electric screwdriver or drill will expedite the method.
Most detectors have a mounting bracket that detaches from the unit's main body, allowing you to screw it into the wall first. After that, you may now be able to clip the motion sensor back in.
It also makes removing the motion detector from the wall after repairs smoother. Other infrared sensors can necessitate a complete disassembly until mounting.
4. Connect the motion sensor to your system.
Link your motion sensor to your device according to the manufacturer's instructions. Most DIY systems will take you through this phase, often using the main keypad or a smartphone app to configure and change the motion detectors.
Suppose you have intelligent motion detectors, such as the Z-Wave-powered Aeotec TriSensor, at approximately $45. In that case, you can attach them to lights and other smart devices through an intelligent hub, SmartThings, so that a light turns on whenever there is motion.
You can also use the smart hub's software to send motion warnings to your mobile devices when there is activity at specific times of day or night.
5. Adjust its motion sensor settings.
When you arm your rig, most motion detectors have three key settings:
In instant mode, every movement sets off an alarm.
The sensor runs on a delay; even though it detects activity, you have approximately 30–60 seconds to disarm the device before an alarm is triggered.
Interior follow-up mode operates on an entrance delay. Still, only when the door touch activates first—it sounds an immediate warning if it senses activity in the home without the door contact triggering.
6. Maintain your motion detector.
Dust and dirt will accumulate on the lens of your motion sensor over time, interfering with the infrared radiation and making it less effective at motion detection. Use a dry or somewhat moist microfiber cloth to clean it at least once every couple of months.
If you plan to paint a wall near your motion sensor, make sure to uninstall the unit. If paint gets on a passive infrared motion sensor, it must be replaced.
Motion sensors are helpful for more than just home surveillance. Many factory fields use them on assembly lines to count the number of goods and to shut down hazardous machinery if anyone comes too near.