Real Moroccan living rooms can be a bit of a challenge to emulate if you lack the stunningly carved and painted ceilings, dramatic windows, and characteristic architectural arches. But it doesn't change the fact that the Moroccan living room has long been a source of inspiration for those of us who enjoy interior decor and take it seriously.
The good news is, Moroccan elements can be included in any interior.
4 Tips for Designing a Moroccan Living Room
A Moroccan living room is a convivial space that includes a lot of seating options. Think loungey low-slung wrap-around upholstered sofas accented multiple accent tables and a large coffee table. Other seating options often include classic Morrocan furniture, like pendant lights, Moroccan textiles, and leather floor poufs.
One great hallmark of a Morrocan living room is unapologetically bold color, sculptured and hand-crafted accessories done in natural materials. All of these Moroccan decor elements add texture and great movement to even the most cookie-cutter contemporary rooms.
Moroccan interiors mix well with industrial, mid-century, Scandinavian interior, and other popular styles that let you create a layered and multi-dimensional look.
We've talked about putting together an Asian-themed bedroom, now it's time to share some tips about creating a Moroccan living room.
#1 Inject eclectic vibes
If it's Moroccan, make it eclectic. Use a lot of key Moroccan decor elements in the living room. A perfect example is from interior designer Betsy Burnham of Burnham Design. The vintage brass lamp, the shape and the look of the fireplace, plust the vintage Persian rug along with the ottoman and wrought iron stools all create an Andalusian effect.
The living room also features mid-century touches like the womb chair and a Noguchi lantern. There are also American pieces like the corduroy sofa and rugby striped drapes.
#2 Covered outdoor living rooms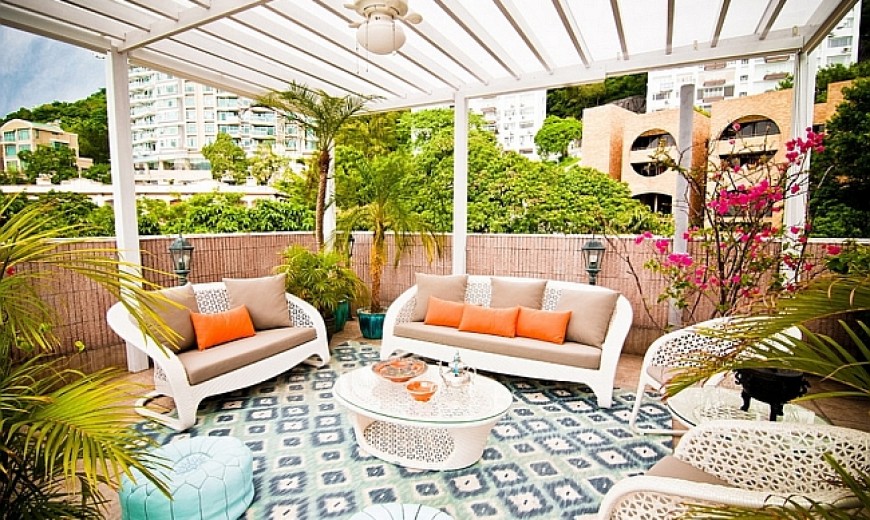 This is the perfect epitome of an airy indoor-outdoor living room. Think traditional carved wooden chairs, soaring and light breezy drapes, and classic Moroccan metal lanterns. They would look sculptural by daylight and by night, it shows a dreamy and intricate ceiling.
Of course, if you really want to take it a step farther, you can take your living room outdoors. If you live in a place that has slight similarities to the Moroccan climate, then you can do this. Think plenty of plush textiles and seating, and of course, a shield from the hot sun.
#3 Pepper the space with Moroccan accents
This contemporary living room is the perfect example for this. Dabito at Old Brand New made a vibrant space that's streamlined. It also features Moroccan textiles like floor poufs and Berber rugs. Think about having punches of color and patterned textiles on the sofa. Add some warmth and joy into your Moroccan living room.
#4 Moroccan-themed wall decor
Enjoy Canvas doesn't have wall art solely dedicated to Moroccan-themed wall decor. But we do have stuff that contributes plenty to the essence of Moroccan-styled interiors. We have art that has geometry and even tribal themes.
We've got an albyden art collection that features wall art with wood textures, perfect if your walls need a little bit texture to them.
In our African-American wall art collection, there are canvas art designs that feature eclectic everyday African life.
The geometric canvas art collection also features eclectic designs that look great when you mix it with other Moroccan-themed interior decor. Perfect for adding rhythm to walls and complementing contemporary interior design.